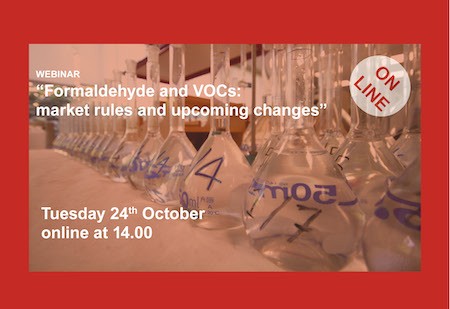 Rules, laws and standards today increasingly focus the attention on the effects of emissions of volatile substances. In addition to the well-known formaldehyde, we find ourselves dealing with numerous other substances - natural and otherwise - and with a constantly evolving legislative and regulatory context.
Do you know that?
The European Commission has established a new limit for the concentration of formaldehyde which
will be exactly the half
of the value indicated in 1989 by the World Health Organization, at the base of the consolidated E1 classification.
Standards and limits on VOCs as well are constantly developing in many European countries.
Together with the CATAS experts, we will examine which substances we are talking about, what the obligations are - in force and coming soon! - on formaldehyde, and what the voluntary requirements are available to qualify products and materials in relation to VOC emissions.
AGENDA
VOC emissions from wood and wood based products
The rules for VOC emissions from furniture
Formaldehyde restriction - REACH
Speakers:
Franco Bulian, CATAS Managing Director
Daniele Bergamasco, Head of CATAS Chemical Dept
DATE:
on Tuesday 24 October 2023 at 2pm CEST
Language:
English.
Participation is free upon registration at:
Registration form
.
For information:
+39 0432 747260 |
formazione@catas.com