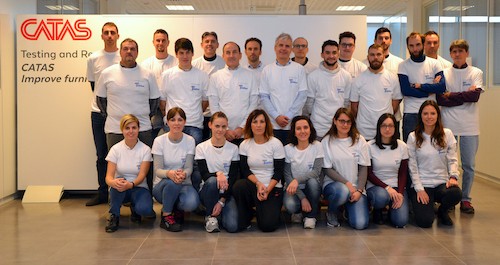 There is no better way to close the celebrations for the 50th anniversary of Catas, the most important European laboratory for tests and certification in the wood-furniture sector, than to participate in an
event in favor of theTelethon Foundation
, a reality founded in 1990 by Susanna Agnelli in the wake of the television marathon invented by Jerry Lewis in the United States back in 1965 to raise funds for the fight against muscular dystrophy and rare genetic diseases.
As known, the "heart" is the television marathon hosted by the Italian national television networks, but the deep meaning of the day is expressed in hundreds of initiatives that arise spontaneously throughout the entire national territory.
Among these,
the appointment in Udine with the 21stedition of the "24x1 hour Telethon relay race"
, a unique event of its kind that this year will involve 600 teams each composed of 24 people, each of whom will run (or walk ...) for an hour. More than 14 thousand people will give rise to an event capable of involving the entire city of Udine and which in 2018 allowed the collection of over 250 thousand euros, a figure that this year everyone would like to see increase ...
Also the athletes of Catas, each with their own pace, will run along the ring in the center of the Friulian capital from 15.00 on Saturday 30 November to 15.00 on Sunday 1 December 2019. The team will run
with the bib number 50
, just to remember the 50th anniversary of the laboratory's foundation and, in addition to helping to animate the event, a contribution to research will be given for every kilometer covered by the team.