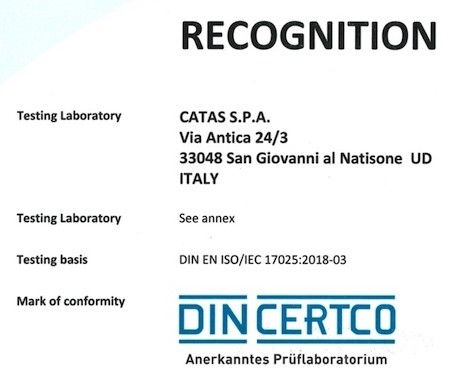 Still in 2002, the DIN CERTCO division of TÜV Rheinland in Berlin started to offer a specific certification for wood-based pellets, quickly reaching a leading position in this sector.
The certification of pellets according to this scheme provides for the execution of initial tests in compliance with the requirements of
EN ISO 17225-2 standard
, by a recognized laboratory. The properties tested include
moisture content, bulk density, sand content and calorific value.
Following a positive assessment, the German body issues a certificate together with the right to use the DINplus trademark with its five-year valid registration number.
The periodic inspection of the production site, on an annual basis, is a fundamental element of the DINplus certification in order to guarantee regular quality control of the production process and of the product. In fact, as an integral part of the audit, the inspectors also take samples for the scheduled periodic tests.
Starting from 2020, inspections and analysis for the DINplus certification of pellets can also be carried out by Catas
having recently received the official recognition for this activity by DINCERTCO.
For information
Daniele Bergamasco
+39 0432 747249
bergamasco@catas.com