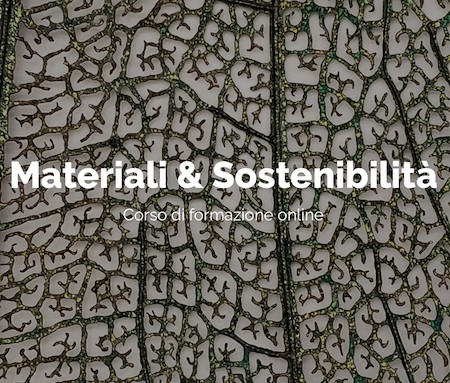 What are the possible strategies for the change of production paradigm traced by the circular economy? What are the opportunities offered to designers in terms of material innovation? How to orient yourself and move effectively, without falling into green washing?
To respond to the challenges dictated by requests and regulations increasingly guided by sustainability goals, MATERIALLY, our partner specializied in the development and promotion of sustainable innovation starting from materials, proposes the "Materials and Sustainability" course. 
The course will be divided into four virtual meetings and held by the experts of the MATERIALLY team, with the participation of CATAS which will present the opportunities and method available to measure the environmentla impact of the entire life cycle of a products (the LCA assessment).

The appointemnts:
Life Cycle: the life cycle of materials in a circular perspective - 3 February, h. 16.00 - 18.00 CET

In the loop: recycling processes, recycled content, recyclability - 10 February, h. 16.00 - 18.00 CET

Bio-future: Bio-based: durable, biodegradable, compostable - 17 February, h. 16.00 - 18.00 CET

There was waste: Agricultural and industrial waste as new raw materials - 24 February, h. 16.00 - 18.00 CET

Discover more.
And reserved to all CATAS Members companies:
Materially offers special conditions to access and subscribe the full training programme!
For information:
Materially
Daniela Scalia 
dscalia@materially.eu
  | +39 02 86891720