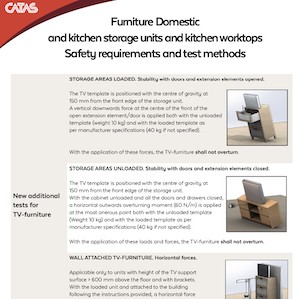 If we talk about storage furniture, it is undoubtedly the TV unit version that presents the highest and most frequent risks of accidents, due precisely to the fall of the TV. Statistics and experience leave no doubt.
How to monitor and control this risk? The dedicated European standardization group has recently worked on it. The result is an update (amendment), with new requirements and test method designed to verify the stability of this particular version of the storage unit and which completes, becoming an integral part of it, the well-known standard EN 14749 "Storage furniture and worktops for domestic and kitchen use - Safety requirements and test methods ".
You can find here a summary sheet which contains the main updates soon published in the new standard document EN 14749 + FprA1:2021, which is now come at its last step of final approval.
For information:
Maurizio Marussi
+39 0432 747225
marussi@catas.com