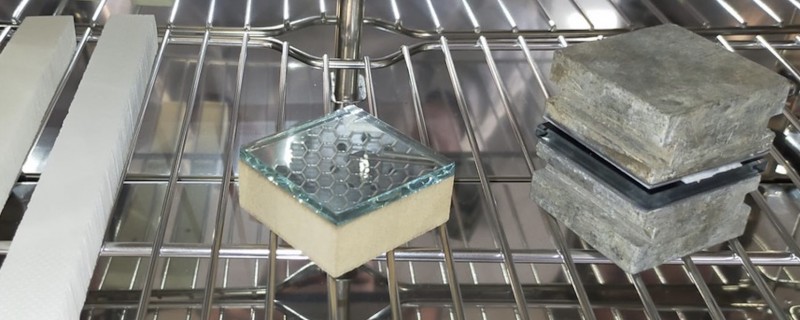 The CATAS Mechanical Department, which deals with tests on materials and components, has some new equipment.
It is
a new climatic test chamber,
which is capable to perform customized conditionings in the immediate vicinity of the testing machines (dynamometers) of the department.
The temperature and the relative humidity of this chamber can be managed in a very wide range: from -40°C to +190°C in temperature and from 10% to 95% in relative humidity.
With this equipment it is possible to
test bonded systems
, according to the temperature and humidity cycles defined by the standard
EN ISO 9142:2004
"Adhesives – Guide to the selection of standard laboratory ageing conditions for testing bonded joints".
It is also possible to adapt the testing cycles to internal technical specifications or to the customer needs.
At the end of these thermo-hygrometric treatments, which can be cyclical or static, it is usual to perform some mechanical tests to characterize the products/materials and to compare their performances before and after the conditionings.
It's a good example a determination of the Charpy impact proprieties test according to the UNI EN ISO 179:2010 standard.
In this occasion a direct comparison of the resilience values obtained from some plastic specimens stored at a standard environmental conditions (23 ± 2 ° C and 50 ± 5% rh) and those after a 24-hour treatment at a temperature of -40°C was made. The results obtained indicated an appreciable variation of this parameter, confirming the importance of this impact test in the study of the effects of exposure of the samples to various climates.
Therefore, this new equipment opens to CATAS the possibility to offer to its customers a new range of tests, oriented to the characterization of materials and/or components of the wood-furniture sector and not only…
For information
Nicola Marussi
+39 0432 747268
nicola.marussi@catas.com