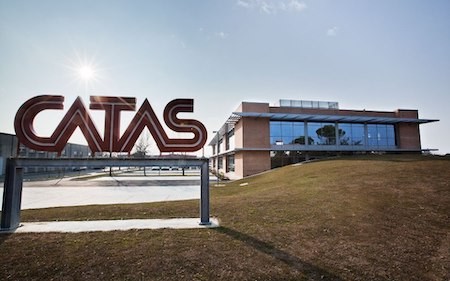 Andrea Giavon
CATAS Managing Director
Those days of the first part of this year are strange days indeed. The certainties, at every level of anthropological activities (from intellectual to physical) have crumbled in a blink of an eye. It is not my intention to make a sociological analysis (which also has strong industrial implications) on what we have experienced, impossible, among other things, given the short temporal distance, also because it would be lost in the enormous amount of words that we find in the media.
There is no doubt, however, that, allowing Plank, for many of the aforementioned activities (I repeat myself, exquisitely in the prerogative of Human being)
we experienced a quantic jump in about ninety days.
Training
The training activity of CATAS
has deeply changed
from many physical, communicative and pedagogical aspects. We soon learned that the language had to change, the classroom is not the VDU screen and this necessarily leads to a "distillation" of the contents possible only if the subject is proper to the speaker. We did this and I must say it with excellent results just unthinkable last year. 
Laboratory
The laboratory activity
never stopped
and this was an exercise in inner strength, patience and passion that really saw us as fearless sailors in the middle of the storm. Without reflectors and without sound boxes. The "always present" for our customers was a certainty in moments when everything moved enormously. Lucid presence, reference on the near future and on the challenges started and stopped and now resumed. 
Standardization
Standardization at all levels
has continued
its activity in a constant and increased way, stoically, although with a fatigue that we had not thought of but that once again made us reflect on how fundamental it is and how sustainable and enormous it can be resource savings. 
Investing in moments of uncertainty is a moment of risk (due to all industrial activities and therefore also to ours) but it is definitely a signal of light in the midst of the storm mentioned above. Investments in ideas, projects and consequent equipment. Now we hope that the legislation (complex we are aware of) directs and favors these attitudes. 
Our sector now in a serious situation has enormous possibilities and probabilities of not only starting again but of proposing itself from a different position, higher and more qualifying than before. Awareness of that quantum leap we talked about earlier. The scope of business services in which we place ourselves is and should be the foundation on which to build a near future.
We believe we have been this and continue to be.
Without shouting, yelling or shouting.