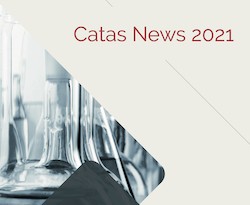 It is a pleasure for us to present you the 2021 issue of "Catas News", a publication that
for thirty-two years now
- the first issue dates back to 1989 - has been one of the most effective communication tools in our relationship with customers and stakeholders.
In the course of these years, "Catas News" has been changed, it has evolved, with the aim to become more and more an easy, effective but, above all, useful and "adequate" tool.
For some time it has become an "annual collection",
a selection of the most relevant contents
that are offered daily on our website and monthly in our newsletters: information has become faster, more immediate, more dynamic and it is essential to use equally fast communication systems.
In this last edition we offer you
a collection of the most "engaging" subjects that have emerged in the last twelve months
and which we believe should still be present to all of us. Contents that we offer you in a new graphic format that we make reading even more enjoyable.
Dedicated to all our Member Customers:
the full digitale edition is available on the web area
myCATAS
, reserved for them.
Enjoy the reading from the CATAS Staff!