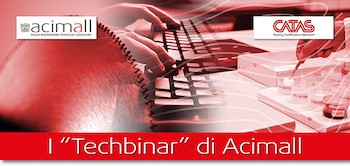 We are ready for the sixth round of "Techbinar," technical webinars organized by Acimall, the association of Italian manufacturers of wood technology and the furniture industry, in collaboration with Catas.
We will talk about
covering materials
.
The aim is to talk about not only of the different technologies available today, but also to highlight what
innovations
allow to give space to creativity, furthermore solving problems and increasing quality, productivity and competitiveness.
Different points of view will be proposed and different topics will be addressed during a debate that aims to give maximum space to the
questions, doubts, and curiosities of all participants.
This webinar is in
Italian language
only,
but
if you need any information about this topic,
do not hesitate to contact us.For information:
CATAS Academy | +39 0432 747260 |
formazione@catas.com