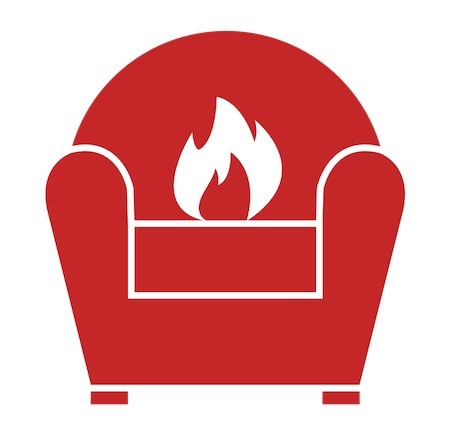 The
California Technical Bulletin 117
(TB 117) standard was born in California and it had its last revision in 2013.
The technical standard applies to upholstered furniture
(intended for seating
), not to bedding products such as mattresses, pillows and decorative cushions for which other requirements exist.
From 25 June 2021 this rule has been extended to all of the USA.What does the standard prescribe?

The test involves the application of a series of cigarettes on a
composite
made up of the
test material
, supplied by the customer, and other
standard materials
defined by the Californian regulator. Basically it is a resistance to the consumption of a cigarette which must not cause flames or other phenomena typical of flameless combustion (for example incandescence).
The standard requires the evaluation of the following types of materials:
1.
cover fabric
of any kind (section 1);
2.
barrier materials
or materials that can be of various kinds and which act as a barrier between the covering and the padding materials (section 2);
3.
resilient filling materials
which can be of various kinds (section 3);
4.
decking material
if they are placed under removable cushions (section 4).

In order to produce upholstered seats compliant with TB 117-2013
, one of these two solutions can be adopted:
- use a cover compliant with section 1 and combine it with filling materials compliant with section 3 (in this case, a barrier material is not needed);
- use a cover and/or filling materials even if they do not comply with the respective sections, therefore not "fireproof", provided that a barrier material compliant with section 2 is interposed;
- if present, the resilient filling materials of the seat base, if they are placed under removable cushions, must comply with section 4.
These solutions concern all the upholstered parts of the piece of furniture: seat, backrest, armrests, sides, etc.
Upholstered furniture manufacturers are responsible for the compliance of their products with TB 117-2013 and therefore are required to demonstrate that the requirements are met.
Please check below where to find more information:
State of California, you will have available:
- The complete text of the technical standard:
Technical Bulletin 117-2013;
- The FAQs relating to the classification of materials:
TB 117-2013 FAQs
;
- The FAQs relating to the prohibition of flame-retardant (FR)chemicals:
AB 2998 FAQ (10-2019)
;
Federation of the USA:
With respect to the application and procedures relating to the federation of the U.S.A. (effective date from 25 June 2021), please refer to the following article available online (CATAS Newsletter_May 2021 issue):
Reaction to fire of upholstered furniture: classification in the USA.
For information and contacts:

Luigino Cavassi
+39 0432 747237
cavassi@catas.com
Daniele Barbiero
+ 39 0432 747256
barbiero@catas.com