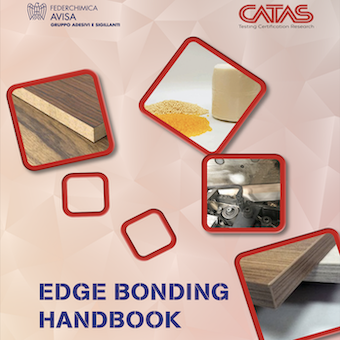 The complexity and multiplicity of the systems used for the edge bonding processes require careful controls during their setup and their daily use considering also the wide variety of the characteristics of the materials involved. The risk of scarce training, skinless and attention is the occurrence of
defects
which importance and real frequency on the market is objectively testified also by the wide experience of Catas.
However, such desirable complete and appropriate control of the edge bonding processes can only derive by a valid interconnection of
different competencies
which are not simple to be acquired also considering the specialisation of the various industrial sectors involved (wood-based panels, edges, adhesives, auxiliary products, edging machines).
These considerations have lead
Catas and Avisa-Federchimica
to consider, that a possible
concrete contribution
to the world of edge bonding would be a collection of all the practical advice and instructions related to these activities to be shared with the furniture manufacturers and, in more general terms, with all the subjects involved in these operations.
The preparation of a handbook was then planned and collaboratively written by
the most relevant Italian experts
in each specific field (board manufacturers, edge producers, adhesive and auxiliary products producers and edge banders manufacturers) after the sharing of the contents with all the other experts involved, in order to consider also the possible interconnections with the other raw materials or with the same edge bonding machines.
The definition of good practices
has been considered the fundamental goal of the handbook in the management of all phases of the process (from the purchase of the raw materials to their storage, through the quality controls of processes and materials), to guarantee a reliable, durable and qualitatively constant product for the benefit of both the producers and the final consumers.
In 2021 the handbook was published in
Italian language
and, considering the great success of the initiative, Catas and Federchimica immediately decided to translate it in to
English
with the publication and official presentation of this new edition dated 7 April 2022.
The handbook can be downloaded for free at the following link.
For info
:
Franco Bulian
+39 0432 747231
bulian@catas.com